Prevent Collaboration Technology Problems
Keep Meeting Spaces Up and Running
Remote monitoring, testing, and repairing of AV technology ensures meeting spaces are always fully functional. Constant Connect is the only AV managed service that performs proactive closed-loop testing, exercising all technology to maintain ongoing reliability and functionality of all collaboration spaces across the enterprise.
Constant Connect provides me peace of mind that every meeting space will always work when needed, no more meeting delays or embarrassment when something doesn't work, everything just functions properly – giving me one less thing to worry about.
NIGHTLY REMOTE ROOM TESTING
Closed-loop testing of every component of an AV system, exercising all elements to confirm functionality and proactively prevent issues
REMOTE MEETING MANAGEMENT
On-demand live technical support of meetings including launching and monitoring calls, fixing technical issues, and pre-meeting testing and set up of AV technology
REAL-TIME DIAGNOSIS & REPAIR
Diagnosis and repair of all problems in real time to keep all systems operating at peak level
REMOTE SYSTEMS RE-COMMISSIONING
Remote testing and re-commissioning of the AV system on a periodic basis
SYSTEM & NETWORK MONITORING
Real-time facility-wide monitoring of all AV systems and networks
SYSTEM CERTIFICATION
Certification or re-certification of the functionality of all audio visual systems
Closed-Loop Testing Of All Collaboration Technology

Real-Time Diagnosis And Repair
Monitoring Of All Meeting Spaces

Detailed Data On System Performance & Functionality
Speak with an AV expert about service and support programs for  seamless hybrid meeting experiences.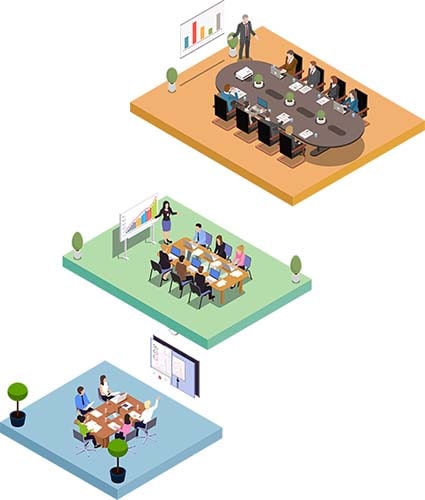 3 Steps to Supporting Hybrid Spaces
Setting up the right support for every type of meeting space
Our free guide will help you determine:
What type of support programs are best based on specific business requirements

The levels of support available based on type of meeting space

The type of testing and tracking needed to ensure tech functionality
Simplify Meetings & Prevent Meeting Delays
Create seamless meeting experiences - no more tech issues, video delays, or problems with UC platforms, enjoy more productive working sessions, every time.
Fill out the form and tell us about your collaboration needs.

An AV expert will reach out to discuss your specific business goals, objectives, and timelines.

Our preliminary scope of work will include design recommendations and tailored service, support and training programs.