AV Solutions to Drive Collaboration
Effective Meeting Spaces Connect People in New Ways
Cenero offers flexible collaborative solutions to improve interactions between in-person and remote teams. Our audio visual and video collaboration programs focus on more than just the technology, our solutions consider all elements of the experience – from lighting and acoustics to touchless tech, UC integration, space utilization, and interactive tools. 
Complete discovery and pre-design process with a focus on solutions that will improve daily business activity.
Solutions designed to meet today's technology requirements, but flexible enough for future needs.
Standard collaborative solutions which allow for a consistent experience from any location.
Dedicated engineers test and certify every solution prior to implementation, guaranteeing simple deployment and operation.
Cenero designed solutions that helped us work together more effectively – the solutions are easy to use and support, and provide us with confidence we will have successful meeting experiences, every time.
Workspace Management Tools
Speak with an AV expert about collaboration tools for simplified and seamless hybrid meeting experiences.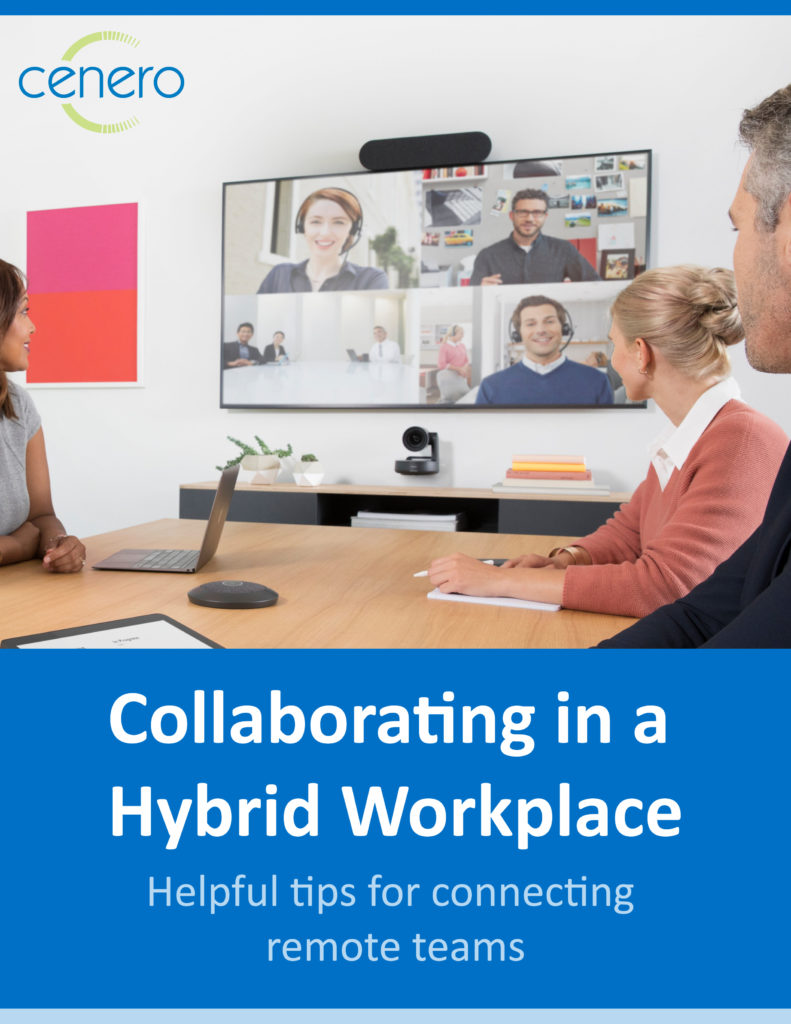 6 Steps to Improving Collaboration in a Hybrid Office
Our free guide contains top tech tips to improving interactions in the new way of working
This eBook will help you:
Create flexible meeting spaces that seamlessly connect in-person and remote teams

Easily integrate UC platforms like Teams and Zoom into in-office environments

Incorporate new tools like space utilization, touchless tech, and digital signage for a smooth transition to in-office work
Simplify Meetings & Prevent Meeting Delays
Create seamless meeting experiences - no more tech issues, video delays, or problems with UC platforms, enjoy more productive working sessions, every time
Fill out the form and tell us about your collaboration needs.

An AV expert will reach out to discuss your specific business goals, objectives, and timelines.

Our preliminary scope of work will include design recommendations and tailored service, support and training programs.