Dedicated Staff of AV Experts
On-Site Support of Collaboration Technology
Experienced AV staff can provide on-site technical support of complex AV systems and hybrid meeting spaces. Cenero manages all aspects of hiring and training best-in-class AV professionals with extensive industry knowledge, offering a reliable, cost-effective IT support solution for every office throughout an organization.
Cenero's on-site staff have proven to be invaluable, any time there is a problem during a meeting or a tech issue, someone is right there to get things working again, greatly reducing the strain on our IT department and letting them focus on other key initiatives.
INDUSTRY KNOWLEDGE
On-site staff with detailed knowledge on all types of AV and conferencing technologies, including latest AV certifications
MANAGED PERSONNEL
Cenero manages all aspects of the recruiting, hiring, training, and managing of qualified personnel to provide dedicated support of all AV technology
TARGETED EXPERTISE
AV specialists dedicated to supporting all collaboration technology, freeing up the in-house IT team to focus on key company initiatives
GLOBAL TEAM
AV technicians are an extension of Cenero and are backed by a global knowledge base, corporate training program, and the expertise of multiple teams to ensure ongoing superior support
On-site AV experts to support your meeting spaces
Experienced professionals can support all collaboration technology in every office, and are part of our suite of managed services that includes proactive support, UC support solutions, an on-demand support desk, and a detailed analytics dashboard - all to provide complete service and support for all spaces across the enterprise.
Industry certified AV experts
Speak with an AV expert about service and support programs for  seamless hybrid meeting experiences.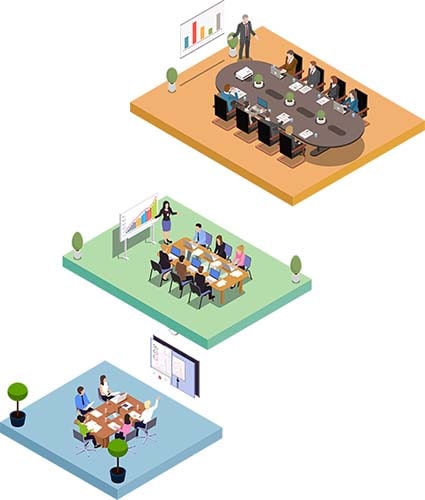 3 Steps to Supporting Hybrid Spaces
Setting up the right support for every type of meeting space
Our free guide will help you determine:
What type of support programs are best based on specific business requirements

The levels of support available based on type of meeting space

The type of testing and tracking needed to ensure tech functionality
Simplify Meetings & Prevent Meeting Delays
Create seamless meeting experiences - no more tech issues, video delays, or problems with UC platforms, enjoy more productive working sessions, every time.
Fill out the form and tell us about your collaboration needs.

An AV expert will reach out to discuss your specific business goals, objectives, and timelines.

Our preliminary scope of work will include design recommendations and tailored service, support and training programs.