Conduct More Productive Virtual Meetings
Set Up Meeting Spaces for Collaboration Success
Hybrid meetings often mean connecting over a UC platform like Teams or Zoom. But since PCs and PC-driven systems in meeting rooms are an integral part of video collaboration solutions, PC updates can lock up or even disable technology causing meeting issues and delays. UC Proactive managed services remotely monitors meeting rooms, UC platforms, and peripherals to make sure all technology always works for important virtual meetings. 
Everyone has been in a Zoom meeting with issues, our IT department used to get inundated with requests for help during meetings, but with Constant Connect, we don't have any problems anymore – our employees are confident that they can easily connect and collaborate in meeting spaces, saving us a great amount of time and money.
PC MONITORING
Continuous monitoring of systems using a custom-built Windows software service that communicates with Cenero's managed services solution, Constant Connect
APPLICATION MONITORING
Ongoing monitoring of the running and registration status of any application
PERIPHERAL MONITORING
Real-time monitoring of all AV systems, displays, and USB peripherals including cameras, microphones, and speakers and their content input for immediate alert of issues or failures
REMOTE ASSISTANCE
Remote connection and viewing of the system for immediate assistance and resolution
Prevent Issues During Hybrid Meetings
Proactive monitoring of UC platforms and USB peripherals including cameras, microphones, and speakers in real-time prevents frustration and delays during meetings using Zoom, Teams or another UC platform. UC Proactive support is part of our suite of managed services that includes proactive support, an on-demand support desk, on-site staffing services, and a detailed analytics dashboard - all to provide complete service and support for all meeting spaces across the enterprise.
Monitoring UC Platforms & USB Peripherals
Speak with an AV expert about service and support programs for  seamless hybrid meeting experiences.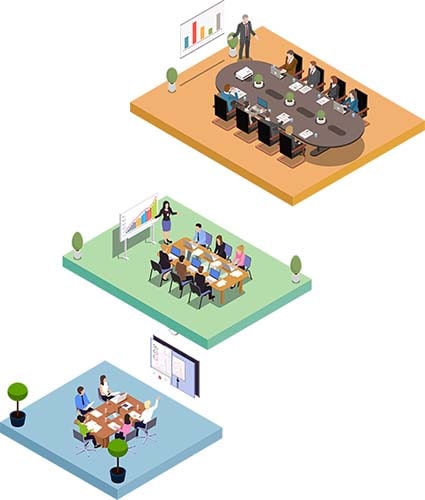 3 Steps to Supporting Hybrid Spaces
Setting up the right support for every type of meeting space
Our free guide will help you determine:
What type of support programs are best based on specific business requirements

The levels of support available based on type of meeting space

The type of testing and tracking needed to ensure tech functionality
Simplify Meetings & Prevent Meeting Delays
Create seamless meeting experiences - no more tech issues, video delays, or problems with UC platforms, enjoy more productive working sessions, every time.
Fill out the form and tell us about your collaboration needs.

An AV expert will reach out to discuss your specific business goals, objectives, and timelines.

Our preliminary scope of work will include design recommendations and tailored service, support and training programs.