Track AV Technology Performance
Leverage Data for Better Meeting Experiences
Cenero's Analytics Dashboard includes detailed analytics and AI-informed data on room usage, system performance, and common issues for more informed business planning and better meeting experiences. Adjust room styles, tech tools and collaboration technology based on actual data for more productive working sessions.
By taking a look at the data on how rooms are used and the types of collaboration technology people use most often, we can better understand if the correct tools are in place to allow everyone to connect and collaborate effectively.
ROOM USAGE AND ANALYSIS
Detailed reports on room usage and function to get the most value from your technology investment
SERVICE CALL MONITORING
Online submittal, monitoring, and tracking of service calls to manage issues and inform future infrastructure decisions
SYSTEM PERFORMANCE REPORTS
Nightly test results for every device in every room to prevent problems ahead of time
INVENTORY TRACKING
Tracking of all AV equipment for improved cost of ownership
Get the Most Value from your Technology Investment
Critical Data Platform provides cumulative data on diagnostics, performance, and usage, to alleviate frequent issues, predict tech failure and provide insights on what tech will work best in the future - to get the most value from technology investments. The Analytics Dashboard is part of our suite of managed services that includes proactive support, UC support, an on-demand support desk, and on-site staffing services - all to provide complete service and support for all spaces across the enterprise.
Central Platform For Meeting Space Tracking

Detailed Data On Performance & Functionality
Better Plan For Future Upgrades
Speak with an AV expert about service and support programs for  seamless hybrid meeting experiences.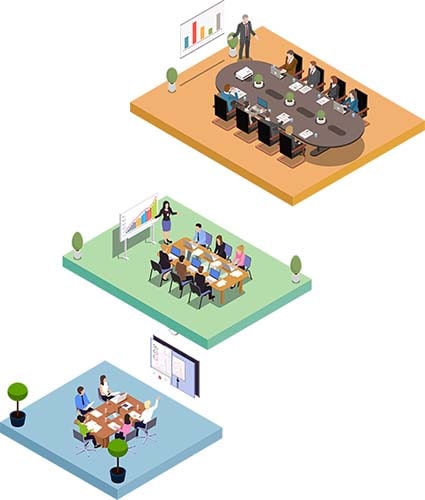 3 Steps to Supporting Hybrid Spaces
Setting up the right support for every type of meeting space
Our free guide will help you determine:
What type of support programs are best based on specific business requirements

The levels of support available based on type of meeting space

The type of testing and tracking needed to ensure tech functionality
Simplify Meetings & Prevent Meeting Delays
Create seamless meeting experiences - no more tech issues, video delays, or problems with UC platforms, enjoy more productive working sessions, every time
Fill out the form and tell us about your collaboration needs.

An AV expert will reach out to discuss your specific business goals, objectives, and timelines.

Our preliminary scope of work will include design recommendations and tailored service, support and training programs.