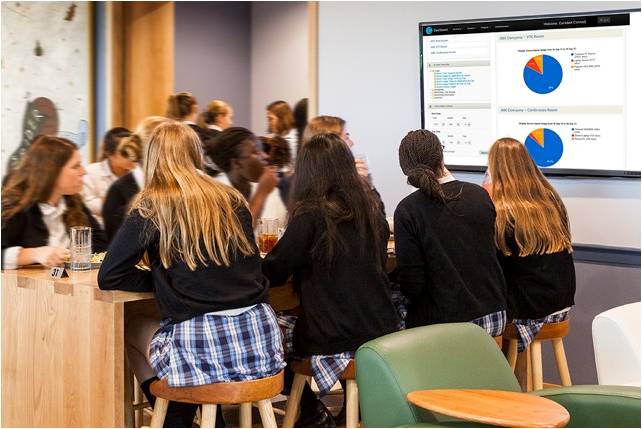 CASE STUDY: St. Timothy's School
Cenero value engineers to meet all of St. Timothy's requirements
Situation
St. Timothy's School, a private school for girls in Maryland, was in need of an AV partner to help with the design and build of their new Dining Commons. The dining facility would seat 230 students and feature satellite TVs, drop down screens for presentations and a connection to the school-wide music system. With high ceilings and many windows, maintaining excellent acoustics for the background music, teleconferencing and multimedia presentations was a top priority.
The school had recently installed an audio visual system in their lecture hall that did not work properly – speakers would fade in and out, iPads did not connect reliably and the overall installation was poorly designed. The vendor that worked on the project claimed they knew there would be issues but they were limited in what they could provide due to budget restraints. Looking to avoid similar issues in the new dining hall, St. Timothy's wanted to work with a new partner that would design a system that would work properly while meeting budget requirements.
Solution
St. Timothy's interviewed five different vendors for the dining hall project. Four of the contenders were product focused – trying to sell a particular projector or screen without first understanding the specific needs of the school. Cenero was the only company that asked questions about what the facility was going to be used for and what needed to be accomplished in the space. By spending time understanding what St. Timothy's wanted to achieve, Cenero could then put together a comprehensive proposal with recommendations for the best way to meet all of the necessary teleconferencing, multimedia and budget requirements.
With a thorough understanding of St. Timothy's multi-use needs, Cenero presented a variety of solutions and allowed the school to test each option to understand the features and functionality in order to make an educated decision. "From the initial proposal to the programming and training, the quality and professionalism of Cenero was incredible," continued Stevens. "The Cenero team took the time to make sure we were comfortable with all the systems, helped us figure out program setups for different presentations and trained us so that we felt confident we had a quality system that would work for all of our various needs. We recently had a group of alumnae in the space and they were blown away by the quality of the sound – there is not a bad spot in the room in terms of visual or sound. I would highly recommend Cenero to anyone looking for an AV partner. They truly understood what we were trying to achieve and designed a system for our budget that would work flawlessly."
"Cenero found ways to value engineer and develop solutions that would meet all of our needs while staying within budget, something that was greatly lacking in our experience with the other AV company we had previously worked with on the lecture hall project. Cenero presented the pros and cons of different options to help us determine the best choice for the space and budget. They challenged us regarding where to save money and what areas where quality would suffer if we were to cut back," –
Randy Stevens, Head of School