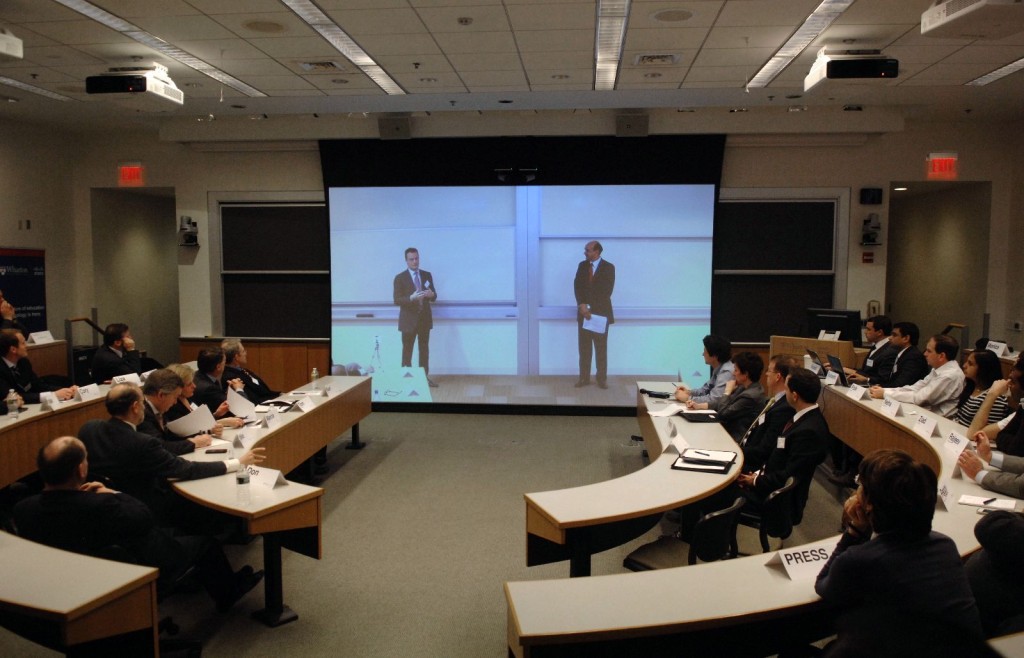 CASE STUDY: Wharton – UPENN
Telepresence Classroom of the Future
Situation
The Wharton School of the University of Pennsylvania recently unveiled a new classroom that combines life-size visual communication via telepresence with collaboration technologies that allow for faculty, students and alumni to interact regardless of location.
"Cenero played an integral part in helping develop this truly collaborative experience. With their assistance on the design, programming and installation of the rooms, we were able to create interactive classrooms that leverage Cisco TelePresence technology to enhance the way faculty, students and alumni interact." – Inder Sidhu, Senior Vice President, Strategy and Planning, Cisco
From providing 3D renderings of what the room would look like to designing a classroom that leveraged technology to create a collaborative environment, Cenero was an integral part of the revolutionary classroom.
Solution
Connects Wharton's Philadelphia and San Francisco classrooms seamlessly for one multi-presence experience

Floor-to-ceiling screen at front of room – students can view the professor in life-size high definition

80″ LED monitors on side walls

large projection screens in rear – students on the other coast appear to be seated in rows directly behind local students

Leading experts from around the world can now teach and directly interact with students from any location

Reduces the need for travel and offers access to classes that would normally be unavailable to remote students



"The genesis of the idea of the connected classroom was created by Cenero. The ability and knowledge of audio visual space and how that applies to what we do as a school is something Cenero uniquely brings as a partner. Cenero provides incredible thought and innovation as we reinvent what the education process looks like through technology," – Dan Alig, Chief Information Officer, Wharton