CASE STUDY: VWR INTERNATIONAL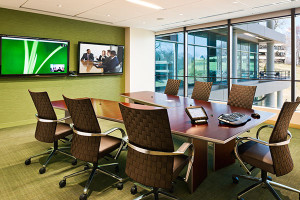 CASE STUDY: VWR INTERNATIONAL
International Multi System Deployment
Situation
VWR International is a worldwide leader in scientific equipment, supplies, chemicals and furniture distribution. When they decided to relocate their world headquarters, Cenero was their partner of choice for designing, installing and servicing their new AV and conferencing systems. Historically, VWR had utilized some basic AV and video conferencing, but they now required integrated solutions that would allow their worldwide offices to communicate on a much more strategic level. The Executive Team recognized that these new systems would be utilized by various technical and non-technical personnel, so they had to be easy to use and highly available.
Solution
This international multi system project featured a variety of room types ranging from small conference rooms, boardrooms, training centers and dedicated video conference spaces. Cenero designers worked with VWR to define several standardized systems to meet the needs and applications of different departments across the globe.
VWR needed to be sure their audio visual systems function without a hitch. For this reason, Cenero deployed their Audio Visual and Conferencing Managed Service called Constant Connect. Constant Connect is a ground breaking managed service that reduces frustration caused by user and technical problems that occur during a video conference or presentation. Every night, Constant Connect tests each component of VWR's audio visual system to make certain that there are no surprises when it comes time for an important meeting. In addition, Tier 3 Technical Support is available to instantly assist with any problem as Cenero has remote access to each and every system within their AV solution.