CASE STUDY: AACR, the American Association of Cancer Research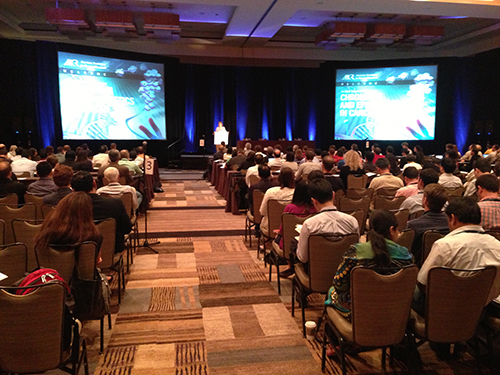 Situation
AACR, the American Association of Cancer Research, needed event support for their small and mid-sized meetings. With complex requirements for each event, AACR had specific policies and procedures that had to be followed for all elements of AV including video, audio, lighting, graphics, scenic, labor and electric/power.
Solution
Cenero Show Solutions partnered with AACR to flawlessly execute all of their special conferences and workshops. From creating standards for video such as what screen size must be used to guidelines for rear and front screen projection and directions for confidence monitors and staging, Cenero made sure every aspect of every meeting met AACR requirements. Cenero also created guidelines for microphones, sound systems, lighting, draping and laser pointers – even how to correctly use the mouse for PowerPoints. The set up of each meeting room was taken into consideration to make sure everything would work properly.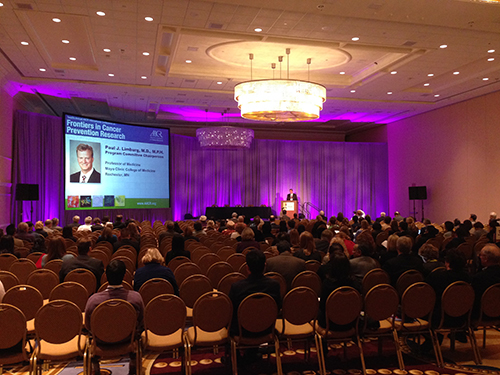 AACR also took advantage of Cenero Constant Connect, a remote managed service that turns on and exercises each piece of AV equipment in their Conference Center to prevent meeting downtime and guarantee a successful meeting each and every time.
"Cenero Show Solutions is a true partner to our team. Cenero delivers the best product, with the best people, every time. Exceptional service and superior quality are standards for the Show Solutions team. Our conference standards are not 'industry standards.' What's great about the Cenero team is they are open to understanding and meeting our needs, our requirements and our expectations, by helping to create the standard for which all our conferences meet, while being mindful of our financial needs and keeping in line with our budgets," – AACR Senior Director, Meetings and Exhibits