Malvern, PA – November 26, 2018 – Cenero, a leader in audio visual, unified communications and IT solutions, today announced it was included in the list of top 50 systems integrators by Systems Contractor News.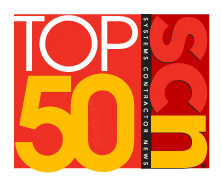 The list details integration firms who have generated top revenue in commercial AV installations in 2018. Cenero moved up 11 spots from last year, ranking number 20 on the list.
"We are celebrating another year of growth at Cenero and are excited to be ranked in the top 20 of this list of leaders in the industry," said Rob Gilfillan, President of Cenero. "As we continue to grow and expand our footprint, we remain committed to delivering exceptional meeting experiences to our clients. Our success is reflective of our dedicated team, strong managed services offering and our ability to partner with clients to understand their specific business needs and then deliver smart collaboration solutions that positively impact the way they interact and communicate on a daily basis."
It is due to this commitment to delivering superior solutions that Cenero's recent work on a large-scale video wall at the Charlotte Douglas International Airport was also recognized by Systems Contractor News as one of their 2018's Installs of the Year. The 140-feet long video wall features digital artwork that fuses technology, art and design to create an immersive traveler experience.
About Cenero
Cenero is a service focused audio visual, unified communications and IT solutions provider.  With extensive knowledge of the most advanced collaboration and audio visual technologies, the company's goal is to deliver programs that improve communication and drive efficiency throughout an organization.  Cenero provides systems design installation, managed services, cloud-based video solutions and event services for companies throughout North America.