Panel Webinar – People, Places & Collaboration
A panel of industry experts discuss:
– New space and technology considerations for meeting rooms, community areas, and personal spaces
–  Ways to maintain culture and inspire innovation with a fragmented workforce
–  How to encourage connection and collaboration as we shift towards a hybrid workforce model
p
p
Webinar – Collaboration Spaces of 2019: Challenges & Trends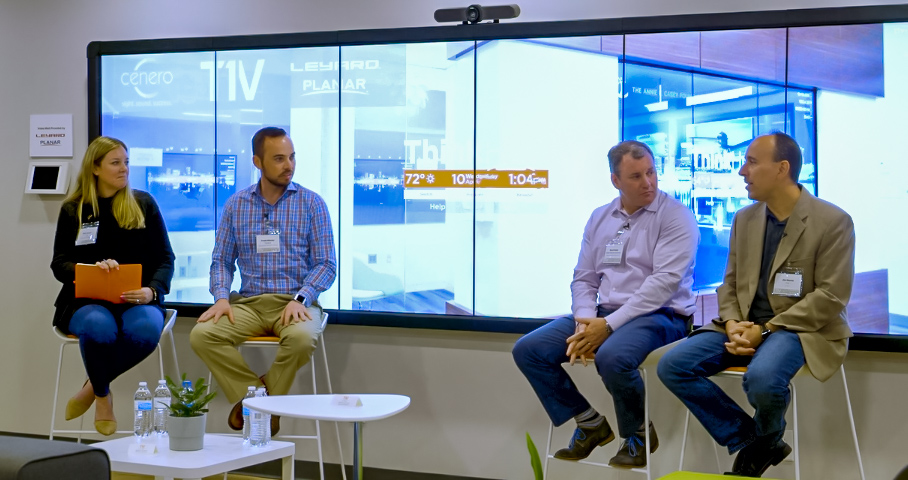 Join visual collaboration experts from Cenero, T1V and Wake Forest University for a panel discussion on key issues and trends in workplace and classroom technology.
In this webinar we review:
Key trends and challenges in the collaboration space
How to future proof your investment in technology
The importance of data-based design
How to accommodate multiple collaboration options into a single space
Panelists:
Brent Babb, Wake Forest University Assitant Director of IT
Frank Milesky, Cenero Southeast Area Director
Jim Morris, T1V CTO
Webinar – 

A Fusion of Technology, Art & Design:
The Charlotte Douglas International Airport 

When it comes to transforming the modern travel experience, Charlotte International Airport (CLT) has brought together a trifecta that is changing the airport experience. Fusing large-format video wall technology with digital art and design, CLT's Concourse A expansion is poised to put them on the map as one of America's destination airports.
Join the LED and audio visual experts of both NanoLumens and Cenero as we walk through the start to finish project that led Charlotte International Airport to be named as one of this year's System Contractor News Installs of the Year. During this insightful webinar, we will cover CLT's objectives as well as the solutions provided AND dive into the unique data sculptures provided by acclaimed digital artist Refik Anadol.