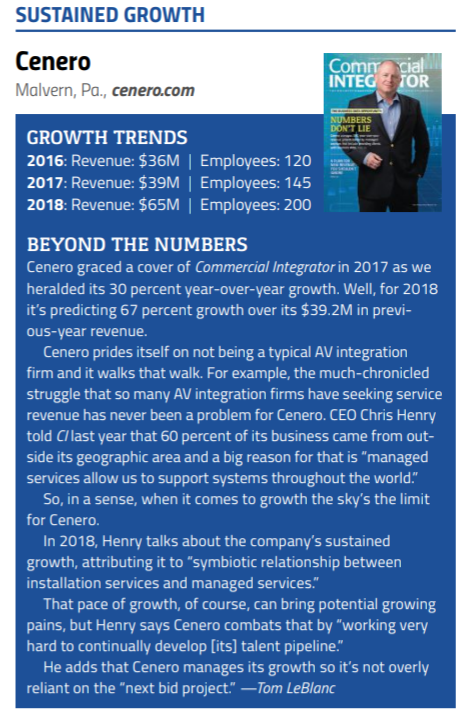 Malvern, PA – August 3, 2018 – Cenero, a leader in audio visual, unified communications and IT solutions, today announced it was included in Commercial Integrator's list of fast-growing AV integration firms for the second year in a row. With an expected 67% year-over-year growth in revenue for 2018, Cenero lands on this list of leaders in the AV industry.
"As Cenero continues to grow, our strong team remains dedicated to developing smart solutions for our clients that empower communications," said Chris Henry, CEO of Cenero. "Our goal is to focus on the intelligent integration of AV solutions and managed services that will enhance interactions throughout an organization. By keeping our clients collaboration goals top of mind, Cenero will be able to continue to deliver exceptional solutions and remain a leader in the industry."
About Cenero
Cenero is a service-focused audio visual, unified communications and IT solutions provider. With extensive knowledge of the most advanced collaboration and audio visual technologies, the company's goal is to deliver programs that improve communication and drive efficiency throughout an organization. Cenero provides systems design installation, managed services, cloud-based video solutions and event services for companies throughout North America.