Malvern, PA – December 11, 2015 – Cenero, a leader in audio visual, unified communications and IT solutions, today announced it has been named to the Systems Contractor News 2015 Top 50 Systems Integrators list.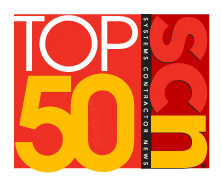 The list, which details integration firms generating top revenue in commercial AV installations, is a compilation of leaders in the audio visual field who exhibit business stability and financial growth.
"Cenero is proud to rank number 37 on this list of top influencers in the AV industry," said Rob Gilfillan, President of Cenero. "We are dedicated to continuing to grow our business through investing in best-in-class employees who can help our clients develop end-to-end technology solutions that improve collaboration and communication throughout the enterprise."
About Cenero
Cenero is a service-focused audio visual, unified communications and IT solutions provider. With extensive knowledge of the most advanced collaboration and audio visual technologies, the company's goal is to deliver programs that improve communication and drive efficiency throughout an organization. Cenero provides systems design installation, managed services, cloud-based video solutions and event services for companies throughout North America.