Malvern, PA – September 3, 2014 – Cenero, a leader in audio visual, unified communications and IT solutions, today announced it has been included in Philadelphia Business Journal's Best Places to Work List for the third straight year.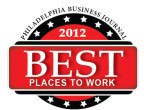 The Best Places to Work program ranks the top employers in the Delaware Valley based on scores given to the companies by their own workers. The online survey was administered by an independent firm and asked employees to anonymously rank their employer on questions regarding work-life balance, recognition of accomplishments, good teamwork and commitment to community.
"We are proud that our employees recognize Cenero's dedication to creating a level of excellence for our clients, partners and coworkers," said Rob Gilfillan, President of Cenero. "We believe in reinvesting in the company and its employees to encourage teamwork, new ideas and opportunities for growth throughout the organization. This award helps to illustrate that each member of our team plays an essential role in Cenero's ongoing success."
About Cenero

Cenero is a service-focused audio visual, unified communications and IT solutions provider. With extensive knowledge of the most advanced collaboration and audio visual technologies, the company's goal is to deliver programs that improve communication and drive efficiency throughout an organization. Cenero provides systems design installation, managed services, cloud-based video solutions and event services for companies throughout North America.