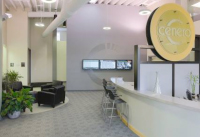 (MALVERN, PA, December 15, 2009) After you enter the main entrance, you walk past the company's own Cyber Café and will most likely see a Cenero employee strumming a guitar in the Music Lounge. Continuing on into the main boardroom, however, it is an uber-sophisticated conference room with all the makings of Star Trek's command and control center. Multiple flat screens, streaming video and business news stations, a computer screen displaying an animated business graphic, and the chatter of several people both in the room and in various remote locations.
"OK, we see your system and everything looks great. We will keep it live and manage it from here, in case there are any problems during your partner review. Good luck and we will be right here." says Rob Gilfillan, President of Cenero to a client who is sitting in his Chicago office conducting an investor review with five of his other partners' offices across the nation.
With their new service offering, Constant Connect, Cenero helps customers manage their audio visual and conferencing systems remotely. No hassles, no glitches, and no lost time or revenue opportunities.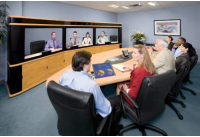 Part of Cenero's Managed Solutions Division, Constant Connect is just one of the new products that Cenero released to the market in 2009 and is a clear demonstration as to why Cenero has posted 30% average annual growth over its ten-year lifespan.
"We have been very aggressive to respond to the three key forces that have changed the way people do business: offices all around the globe, stricter management of operating expenses, and the absolute need to stay in front of the customer, comments Chris Henry, CEO of Cenero. "These factors have placed video conferencing and audio visual solutions at the forefront of business strategy as an effective tool to grow revenues while simultaneously controlling costs. Since our business is founded on creating tailored solutions to an individual customer's needs, Constant Connect seemed like a natural evolution for the Boardroom."
So, what does Cenero's Constant Connect do? It is like the Onstar® of videoconferencing and communications systems in businesses. Remotely, Cenero can manage a company's videoconferencing and technology systems, conduct ongoing systems checks, and be a 24/7 Help Desk during critical meetings.
During a time when I have partners and clients all across the country and I need to have a meeting with them at the drop of a hat, I cannot afford to have my boardroom technology go bad. It has to be perfect. The meetings need to run smoothly and on time or we lose money," says Mark Alberto, a Cenero customer. "Cenero's Constant Connect gives me the confidence I need when calling partners or investors. Even better, the solution they created for my company was customized for our business needs."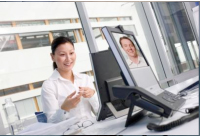 But Constant Connect is just one of several new products that Cenero is releasing in 2009 and 2010. At a time when companies are pulling back on investments and product development innovation, Cenero seems to be trailblazing ahead. 2010 has plans for several products that enable individualized videoconferencing systems which have industry-specific applications.
Rob points to the guitars and the café'. "We have a culture of creativity. I want our team to be in an entrepreneurial environment; but, I want that environment to physically integrate creativity centers throughout our office. For me, the way that entrepreneurs thrive is to always have creative connections surrounding them throughout the business day."
Well, it must be working. Cenero has posted double digit growth each year of the past ten years. Last year, they were ranked as one of the Top 100 fastest growing privately held company by the Wharton Small Business Center. And, this year they made the Inc. 5000 list. "Getting ready to celebrate our 10th Anniversary next month, I am very happy with what we have built and also what we have planned to continue to support the customer, says Henry.
About Cenero
Cenero is a privately held service-focused audio visual and conferencing solutions communications company located in greater Philadelphia. Cenero helps organizations gain a competitive edge by leveraging audio visual and conferencing technology as productive tools. Cenero provides systems design, installation, managed services and event services for organizations throughout North America. Cenero's extensive knowledge of audio visual systems, video conferencing and network infrastructure delivers solutions that improve communication and drive efficiency throughout an organization. For more information regarding Cenero's products and services, call (610) 344-7007 or visit their website at www.cenero.com.