(Camden, NJ) – After nearly two years of careful planning, the Adventure Aquarium in Camden, NJ presented to the public a spectacular ballroom called Currents. Cenero designed, built, and installed the high-end audio, video, and control components that make this room 'functionally exciting'.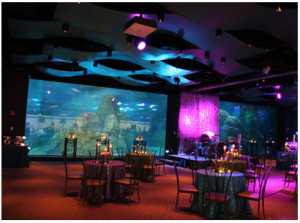 The Currents Ballroom at the Adventure Aquarium is designed to cater to all types of events. The Aquarium has once again found a way to create 'magic' by integrating their amazing mammal and aquatic life into this new facility. This one of a kind ballroom provides a 'triple-threat' of beauty, functionality, and taste. The backdrop for this multi-divisible room is a 550,000 gallon Shark Realm tank filled with over 20 sharks and hundreds of other amazing fish. The integration of technology that Cenero provided was critical to the success of this project.
To support this flexible environment there are multiple automated audiovisual systems that tie everything together.
This project had many challenges including the ability to effortlessly transition from a fully functional, technically advanced business environment, to a stunningly beautiful, and tastefully presented entertainment facility. With a single press of the button the aquarium tank can be hidden from view so that the full attention of the audience can be focused on the podium. There are shades on the other side of the room that can also be easily operated to hide or show the view of the Philadelphia skyline as well. Cenero and the technology they implemented played an important role the accessibility to this important equipment.
"By working closely with the aquarium staff and carefully identifying the unforgettable experience they wanted to provide their customers, we were able to integrate the right amount of technology to bring this to fruition", states Carlo Beuf, Cenero sales engineer for this project. "Because of the stunning architectural design as well as the compelling 550,000 gallon aquarium as a backdrop, it was important that the equipment was integrated in a way to make it as invisible as possible. The massive 144 inch projection screens, plasma TV's, and audio visual gear naturally melt in the colorful walls and ceiling. The extensive audio and video capabilities are very accessible but hidden from view. Additionally we installed an audio system that allows the guests to communicate with the Aquarium staff when they are in tank. This helps to add to the unforgettable experience that the Adventure Aquarium worked so hard to achieve."
Greg Charbeneau, Executive Director at the Adventure Aquarium states. "Cenero is a great company to work with. They are very professional and they understand quality experience as a whole. That quality experience is not just hardware installation and having a tech person available to show us how to use the equipment, but it is understanding what the end user experience is, and for us the end user is the client who will be utilizing the space. They paid close attention to the implementation and made sure it was convenient for either the Adventure Aquarium cast member or client utilizing the technology to be able to easily control not only audio and video equipment, but lighting as well. The bottom line is Cenero understands the quality of service that we needed, not only for the Aquarium, but for our guests as well, and this is why we have utilized Cenero for the past few years with many important projects that we have successfully accomplished."
About Adventure Aquarium
Open from 9:30 a.m. to 5:00 p.m. daily, Adventure Aquarium, located on the Camden Waterfront, features nearly 200,000 square feet of sea life and wildlife. Visitors will be in for an adventure of a lifetime as they visit the West African Experience featuring hippopotamuses, crocodiles, porcupines and over 20 species of African birds in a free-flight aviary; surround themselves with sharks in a suspended 40-foot walk-through tunnel; explore the wonders of the deep in the Jules Verne Gallery; and even have an once-in-a-lifetime opportunity to "Swim with the Sharks." Like its sister aquarium, Newport Aquarium, located at Newport on the Levee in Newport, KY, Adventure Aquarium is an accredited member of the American Zoological and Aquarium Association. Admission is $17.95 for adults and $14.95 for children ages 2-12.
About Cenero
Cenero provides audiovisual systems design, installation and event rentals for organizations within the Tri State Area. Cenero has over 250 combined years of experience in the audiovisual design, installation and events industry. Cenero's professionals combine extensive Audio/Visual knowledge, with a keen business sense to help companies capitalize on the benefits effective communications can make to their organization. For more information regarding Cenero's products and services, call (610) 344-7007 or visit their website at www.cenero.com.